Z-SUITE
With each Zortrax 3D printer comes free, powerful and user-friendly Z-SUITE slicer, ensuring most efficient 3D printing. This software is intuitive, flexible, and easy to use. It guarantees that working with both FDM and resin technologies will be seamless, thanks to a whole range of calibrated, ready-to-use material profiles as well as clear steps which guide the user through the whole process. BASF recommends using this slicer and considers it to be the best 3D printing software available on the market.
LEARN MORE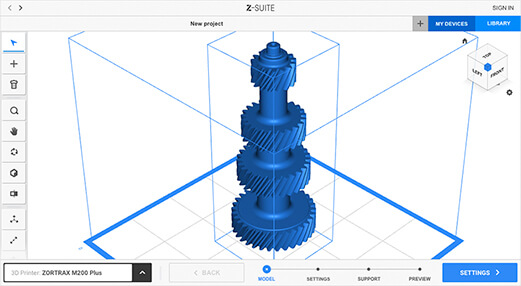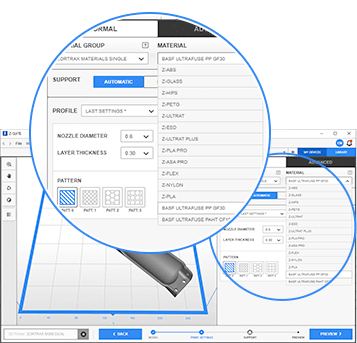 READY-TO-USE PRINTING PROFILES
Z-SUITE offers a whole variety of pre-calibrated 3D printing profiles, bringing the users tried & true configurations of the key parameters to ensure convenient, most efficient 3D printing process, and deliver best results.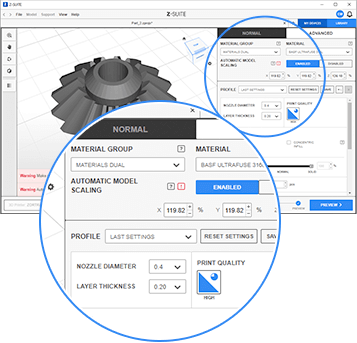 AUTOMATIC SCALING OF METAL PRINTS
When printing with metal-polymer filaments, the model must be printed around 20% larger due to the model's shrinkage that occurs during post-processing. With Z-SUITE, users do not have to worry about adjusting the size of the model, as it is done automatically in the software.
RESIN POST-PROCESSING SUGGESTIONS
Working with photopolymers has also been made easier in Z-SUITE, as it not only brings ready, calibrated resin profiles, but also suggests the proper steps after resin 3D printing so that the users know the exact cleaning and curing times of their 3D prints.
How Users Benefit from the Collaboration of Zortrax and BASF
HOW INKSPIRE 2 AND BASF FORWARD AM RESIN FILL THE VOID FOR CUSTOM SPORTS GEAR
Learn the story behind the creation of personalized bike lights using a Zortrax Inkspire 2 3D printer and BASF Ultracur3D® RG 1100 B resin.
LEARN MORE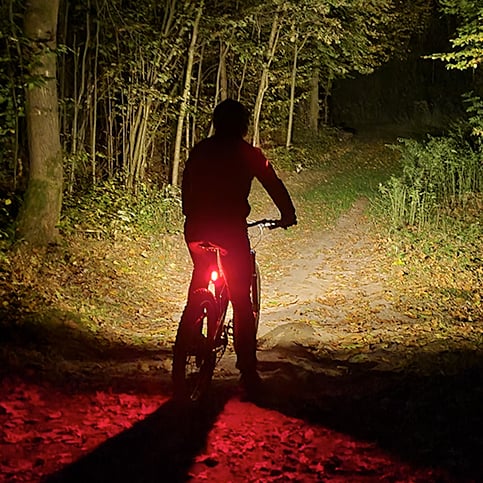 QUANDUM AEROSPACE EXPERIENCE WITH ZORTRAX INKSPIRE 2 RESIN 3D PRINTING ECOSYSTEM
Quandum Aerospace, a Spanish company specializing in aerospace, green energy, and medical technologies tested new Zortrax resin 3D printing ecosystem.
LEARN MORE
3D PRINTED EQUIPMENT ENABLED TOP BIATHLETE TO TRAIN DESPITE INJURY
A French biathlete could train despite an injury due to equipment 3D printed on Zortrax M300 Dual 3D printer with BASF Ultrafuse® PP GF30 filament.
LEARN MORE
BASF Forward AM Ultracur3D® EL 4000
See flexible scaffolding 3D printed with Ultracur3D® EL 4000 belonging to the elastomeric line of resins compatible with Zortrax Inkspire 2 3D printer
LEARN MORE
Zortrax and BASF at Formnext '22
Take a look at what leading resin and 3D printers manufacturers have prepared for all who apply 3D printing in their businesses at Formnext 2022.
LEARN MORE
AVAILABLE DOWNLOADS
Useful Resources
Compatible Zortrax 3D Printers and Post-Processing Devices