BENEFITS FOR YOU WORKING WITH PHOTOCENTRIC AND BASF FORWARD AM
Economic and Large-Scale Production at a Competive Cost
Photocentric is a manufacturer of photopolymer resins, production parts and 3D printers.
Our collaboration started back in 2018 as we share the same desire to establish Additive Manufacturing as a true manufacturing option, to be considered alongside more traditional methods of manufacturing such as injection moulding, not only for small series, but also for the production of large components. This continues to be our passion.
Joining our combined expertise in polymer manufacturing, we have created resins with higher performance and solutions better suited for end-use applications. The partnership led to the production of the dedicated Ultracur3D® Daylight Line resins, designed to work in conjunction with Photocentric's unique LCD technology. It has enabled BASF customers access to the visionary large platform machines perfectly suited for industrial Additive Manufacturing at scale.
"BASF is a well-known, well respected, global company. Photocentric is an innovative, agile company. Together, through our strategic partnership we can offer companies a real option to make end use parts, using photopolymer resin, on a large scale, at an acceptable cost. The value that the alliance brings us is a real power of collaboration, our shared vision, values and combined intellectual rigor enables us to drive real change in the additive industry."
"We are strongly connected through a long-standing strategic partnership with Photocentric underpinned by our shared goals. We are combining the talents and deep chemical and engineering understanding of our teams which work closely together on developing novel 3D printing materials best fitted to exploit the advantages of unique Photocentric machines. Together, we aim to meet the very high performance requirements of our customers with chemistry, materials and hardware that are even better suited for end-use applications."
Photocentric Printers and Forward AM Materials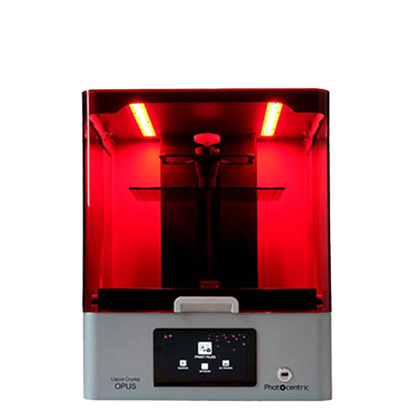 VALIDATED WITH OUR MATERIALS
Photocentric LC Opus
Technology: UV
Build volume: 310 x 174 x 220 mm
Print Speed: 18 mm per hour
Compatible Ultracur3D® UV Materials:
ULTRACUR3D

®

DAYLIGHT RESINS
Chemical Resistance & UV Stability Tests
To fulfill the requirements of different industries and to respond to our customers' needs, we are constantly testing the mechanical properties of our materials according to the respective norms. In joint cooperation with our partner Photocentric, we have performed specific chemical & weathering tests.
USE CASE
How Girbau Group Increased Efficiency with Additive Manufacturing
When traditional manufacturing is on the sidelines because it cannot provide the desired outcome, Additive Manufacturing (AM) is often a real game-changer to achieve companies' visions.
With the unique freedom of design and the right materials, tailor-fit solutions are well within reach – let's take a look at how Spanish company Girbau Group leveraged 3D printing with Forward AM's photopolymer Ultracur3D® EPD 1006 powered by Photocentric.
LEARN MORE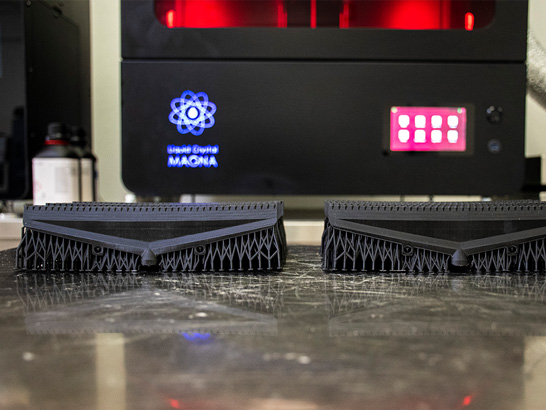 PRESS ARTICLE
Photocentric & BASF renew LCD 3D printing materials partnership
Combining the talents of their respective R&D teams, Photocentric and BASF are aiming to develop materials that 'realise the potential of Additive Manufacturing at scale' and help to facilitate higher productivity and lower prices per printed part. Previously, BASF and Photocentric have worked together to develop Ultracur3D® Daylight photopolymer resins, designed to work in conjunction with the latter's LCD 3D printing technology.
By Sam Davies from TCTMAG
READ FULL ARTICLE ON TCTMAGAZINE.COM
MATERIAL PRINTER COMBINATION
Ultracur3D® Photopolymers Validated on New Photocentric LC Opus 3D Printer
The new LC Opus is Photocentric's most versatile and quickest LCD printer yet. The rugged LC Opus is fast and accurate delivering reliable and repeatable performance
LEARN MORE
USE CASE
3D Printing for Model Railways with Ultracur3D® EPD 2006
Cirp, a 3D Printing Bureau were approached by modellbahn.blog, a specialist online model railway retailer that offers service and a wide range of spares and accessories to model railway enthusiasts. They saw an opportunity to create very small loudspeakers that would add audio or enhance the existing audio capability of the model locomotives. These loudspeakers would be designed to sit within the chassis of the locomotive models and integrate with the existing electronics.
LEARN MORE
PHOTOCENTRIC & BASF FORWARD AM
Together we enable disruptive industrial appplications by creating high-performance resins to work on Photocentric printers solving some of our customers' biggest challenges.
CHECK THE VIDEO FOR MORE DETAILS →
AVAILABLE DOWNLOADS
Useful Resources
Ultracur3D® UV Resins - Photocentric LC Opus
Ultracur3D® Daylight Resins - Photocentric LC Magna