Congratulations to the winning startups
of the Forward AM Innovation Award 2021
6 months journey, 145 applications from 36 countries, 11 sponsors...
Meet the winning startups of the first edition of the Forward AM Innovation Award
Cosm Medical
Urogynecology
Founded in Canada in 2017
Cosm Medical focuses on pelvic floor issues such as incontinence and prolapse, a common global women's health issue. Their 3D printed silicone-based pessaries show a higher success rate than traditional ones, thanks to a combination of personalized design process using ultrasound, Artificial Intelligence and Additive Manufacturing.
Deloitte Sustainability Award
Founded in France in 2019
Wyve creates 3D printed surfboards from recycled plastics. With a unique honeycomb design, they are easy to repair and lightweight, bringing sustainability and advanced functionality to a traditionally rather pollutive industrial process.
Founded in France in 2016
Syos creates 3D printed custom saxophone mouthpieces that enable musicians to shape their own unique sound. World-famous musicians are already adopting their solution.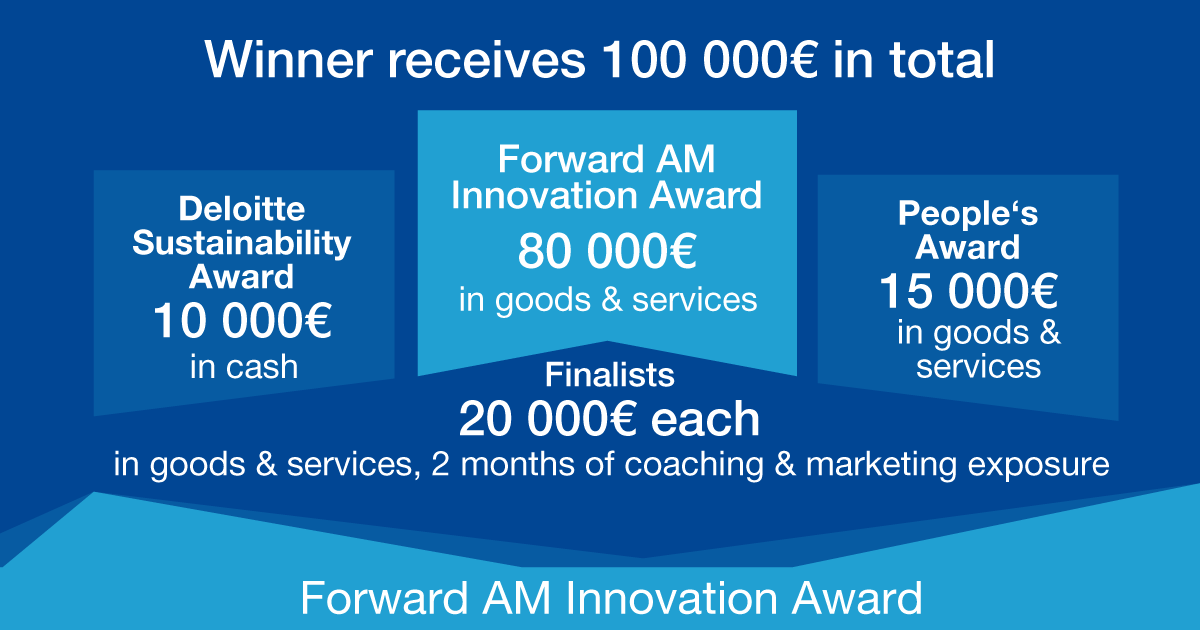 Sign up to receive our newsletter and get informed for next year's edition of the Forward AM Innovation Award.

BASF 3D Printing Solutions GmbH, headquartered in Heidelberg, Germany, is a 100% subsidiary of BASF New Business GmbH. It focuses on establishing and expanding the business under the Forward AM brand with advanced materials, system solutions, components and services in the field of 3D printing. BASF 3D Printing Solutions is organized into startup-like structures to serve customers in the dynamic 3D printing market. It cooperates closely with the global research platforms and application technologies of various departments at BASF and with research institutes, universities, startups and industrial partners.
They will provide coaching, marketing exposure and funding to the finalists.
We are honored to have them on our side.
AMPOWER
AMPOWER is the leading consultancy in the field of industrial Additive Manufacturing. AMPOWER advises their clients on strategic decisions by developing and analyzing market scenarios as well as compiling technology studies. On operational level, AMPOWER supports the introduction of Additive Manufacturing.
AMT
AMT produces end to end automated post processing systems that are accelerating the mass adoption of industrial Additive Manufacturing 2.0. Founded in 2017, AMT is headquartered in the UK with a design and manufacturing facility in Hungary, and offices in Texas. More information about AMT is available at
AUTODESK
At Autodesk, we exist to turn ideas into new realities that shape a thriving future. Our software and services harness emerging technologies—such as additive manufacturing (3D printing), artificial intelligence, generative design, and robotics—that give companies and individuals the power to work more quickly, effectively, and sustainably throughout the entire project lifecycle. For more information visit autodesk.com or follow @autodesk.
HP
HP Inc. creates technology that makes life better for everyone, everywhere. Through our product and service portfolio of personal systems, printers and 3D printing solutions, we engineer experiences that amaze. More information about HP Inc. is available at
Photocentric
Photocentric has been manufacturing photopolymer resin since 2002 and are the undisputed world-leaders in visible light polymerisation. In 2014 we started our journey into 3D printing with the use of LCD screens as the selective light source to harden visible light photopolymer.
https://photocentricgroup.com/
Sculpteo
Digital manufacturing leader since 2009, Sculpteo works with innovative companies to integrate 3D printing into their manufacturing processes. Sculpteo's experienced Additive Manufacturing specialists provide on-demand 3D printing with professional technologies and
performance materials.

www.sculpteo.com
Ultimaker
Since 2011, Ultimaker has built an open and easy-to-use solution of 3D printers, software, and materials that enable professional designers and engineers to transform the way they manufacture. Over 400 employees work together to accelerate the world's transition to digital manufacturing.
AM Ventures
The leading venture capital firm in additive manufacturing has an extensive portfolio of more than a dozen successful companies in 7 countries on 3 continents. AM Ventures possesses in-depth technology know-how and is well connected with the most experienced industry experts in the 3D printing industry.
BASF Venture Capital
BASF Venture Capital are the corporate venture capital company of the BASF Group. Since 2001, we have been investing worldwide in young, fast-growing companies and funds related to current and future businesses of BASF. With our investments we focus on the areas of chemistry, new materials, sustainability, digitalization and new, disruptive business models.
Deloitte
Deloitte is a leading global provider of audit and assurance, consulting, financial advisory, risk advisory, tax and related services; legal advisory services in Germany are provided by Deloitte Legal. Our global network of member firms and related entities in more than 150 countries and territories (collectively, the "Deloitte organization") serves four out of five Fortune Global 500® companies. Learn how Deloitte's approximately 330,000 people make an impact that matters at www.deloitte.com/
Women in 3D Printing
Women in 3D Printing is an organization dedicated to promoting, supporting and inspiring women who are using Additive Manufacturing technologies. Women in 3D Printing centers around the idea that we should embrace those diverse backgrounds because they are what makes this industry so rich and interesting.